Exploring main window
Click on a part of the main window you wish to learn more about.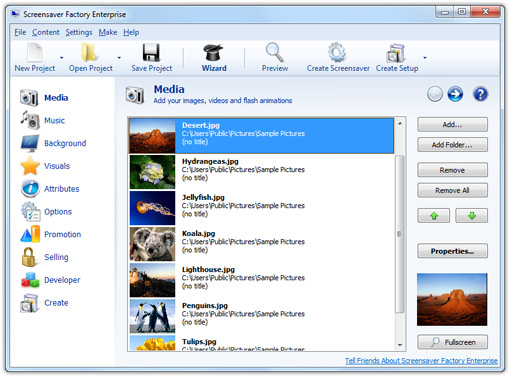 Menu bar
Allows accessing all Screensaver Factory commands.
Toolbar
Allows accessing the most important commands quickly, such as New Project, Open Project, Save Project etc.

Navigation bar
Allows switching between different sections of the current screensaver project.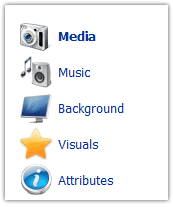 Following sections are available
Media - add your pictures, video and flash animation to the screen saver
Music - add music files to screen saver
Background - select background color or picture
Information - change screen saver information, readme file and license agreement
Options - change options for image display duration, display order, position on screen, transition effects, sounds, screen saver exit conditions and user interface
Special - extra screen saver features, such as custom screen saver preview image and custom screen saver icon
Promotion * - promotional features, such as web links, built-in banners and company logo integration
Shareware - change screen saver shareware (commercial distribution) options
Create - preview, create and install screen saver or screen saver setup package
* - available only in Professional and Enterprise editions.
Section title
Displays information about the section currently selected.

Naviagtion and help buttons
Allows navigation between Screensaver Factory sections and provides help about the current section.
Work area
Central area of the window displays controls and tools related to currently selected section.